Cosmo (Cavoodle (L)), Charlie (Spoodle (R))
Schnoodle
www.petsmart.com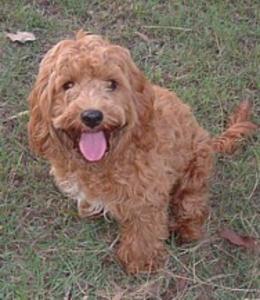 Cavoodle


ozdoggy.com.au
Labradoodle


www.labradoodle.com.au
Moodle


www.countrypuppies.com
Groodle
dogtime.com
After my recent visit to the US, I was ready to return to Australia. I missed my ocean views, cooler weather and friends. What I missed most of all was Charlie, our dog. Charlie is a "love bug" and has so many good qualities that he consistently shows to us. He's generally obedient and aims to please, all the time. He offers unconditional love no matter what. He doesn't talk back and is easy to take care of. Just give him some exercise and dog kibble and he is a happy chappy. Charlie makes a fuss over all of us. Whenever any of us come through the front door, Charlie greets us with a huge welcome as if we have been away for months. Charlie sees the good in everyone and asks for little in return. There is a lot one can learn from dogs.
Charlie is an 18 month-old Spoodle, which is a cross between a Cocker Spaniel and a Poodle. In the US, this type of dog is called a 'Cockapoo'. Who is the brainiac that decided to add 'cock'+'poo' and thought it would be a good name?! A mad housewife....a drunken breeder who thought it was funny? Charlie is part of a growing trend of designer dogs in Australia. A designer dog is a fancy name for a fancy mutt. The differentiation though is that the designer dog must be a cross between 2 purebred dogs. There are many - oodles at my local dog park: Cavoodle (King Charles Cavalier Spaniel X Poodle), Schnoodle (German Schnauzer X Poodle), Labradoodle (Labrador Retriever X Poodle), Moodle (Maltese X Poodle), Groodle (Golden Retriever X Poddle). The hope of breeders is to combine the non-shedding, low allergy and intelligence of a poodle with the positive aspects of another purebreed dog to create an excellent hybrid. There is controversy here that -oodles are just expensive mutts. Others want them to be accepted and recognised by the AKC since they come from purebred dogs, while others say this can't be as they are a mixed breed.
Oodles and Schnoodles and Spoodles aside, Australians seem to love their dogs. Where I live in Sydney, they're everywhere! As an ex-pat, owning Charlie has been a great way for me to meet more people and feel like I'm part of the community. At our local dog park, I've met people of all ages and all walks of life. We talk about our dogs, the weather and basically anything that comes to mind that day. It is usually light, easy banter and I enjoy going to the dog park almost as much as Charlie does. According to the Australian Companion Animal Council, Inc., Australia has one of the highest rates of pet ownership in the world with one-third of households owning dogs. I suspect this number is higher as many dogs are not registered. Local government, councils, require all dogs to be registered and microchipped. Dogs are also encouraged to be de-sexed unless the dog will be bred. Where I live, Manly Council has pages on their website about Pet Ownership and Caring for your Pet. They even hold an annual Dogs Day Out at our local beach, which is this weekend. There will be Obedience, Agility, Best Tricks, Fancy Dress and Look Alike contests.
I thought of making a dog biscuit or dog treat but I don't want to focus on canine eating, just humans. So I couldn't resist the rhyming name of Snickerdoodle cookies. These cookies or biscuits, as they are called here, are delicious! They are popular in the US and can be found in most cafes. I grew up making them in my parents' kitchen. I haven't seen them in Australia but I think that the Aussies would like them as they seem to prefer more simple, biscuit like cookies. I would compare Snickerdoodles to a more sophistocated Sugar Cookie due to the addition of cream of tartar which gives the cookies a delightful tang and the cinnamon sugar topping. This is also a kid friendly recipe as my daughters enjoy rolling the dough balls in cinnamon sugar.
adapted from Betty Crocker
1 cup Butter, room temperature
1.5 cups Sugar
2 Eggs
1 tsp Vanilla Extract/Essence
2.75 cups Plain Flour
2 tsp Cream of Tartar - (in baking aisle, usually next to baking powder and baking soda)
1 tsp Baking Soda
1/4 tsp Salt
Topping:
1/4 cup Sugar + 2 tsps ground Cinnamon
1) Heat oven to 185C/375F
2) Cream Butter and Sugar with mixer or with electric beaters until light and fluffy, about 2 minutes
4) In a separate bowl, combine all dry ingredients - Flour, Cream of Tartar, Baking Soda and Salt.
5) Using mixer or by hand, add dry ingredients to wet ingredients in 3 additions, blending after each addition.
6) Cover bowl with foil and set in the refrigerator for 30-60 minutes, long enough for the cookie dough to harden a bit.
7) Meanwhile, in a small bowl, mix topping of sugar and cinnamon together.
8) Roll cookie dough into small balls and roll them into cinnamon sugar mixture.
9) Bake Snickerdoodles in oven for 10 minutes......enjoy!