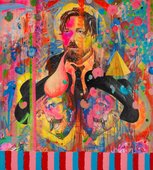 David Griggs, "TV Moore"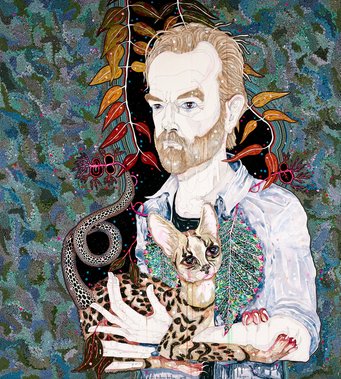 Del Kathryn Barton, 'Hugo" - WINNER
We are currently on school holidays in my state of New South Wales for 2 weeks. The Australian school system calendar is very different from the US. It is based on the calendar year, with school beginning in late January and ending mid-December. School is divided into 4 terms with 10 weeks of school then 2 weeks off between terms and then a shorter 6 week summer. Life is easier at the moment as there are no early morning alarms going off, no lunches to be made, most after school activities have ceased, no homework, later bedtimes, etc. It is nice to break the daily family grind and have a brief hiatus from our busy lives.
I decided to take the girls into downtown Sydney so they could have a change from our beach lifestyle and enjoy some culture. I had lofty goals to do some shopping at big name flagship stores, have a nice sit down lunch and then head to the art gallery. As a parent, I always have these lofty goals that seem perfect in my head but then in reality they are quite different as I hear comments like- "that outfit is for a 5 year old, Mom!...I hate sushi; can I have toast instead?..Do we really have to go to an art museum? That's boring" Luckily, after only a little negativity, our day was ideal. We found some shops we liked, a restaurant we all could agree upon and saw the best art exhibition I've seen in a long time - The Archibald Prize.
The Archibald Prize is regarded as the most important portraiture art prize in Australia. The annual contest started almost 100 years ago and is overseen and shown at the Art Gallery of New South Wales in Sydney. The $75,000 award is for the best portrait of a man or woman distinguished in Art, Letters, Science or Politics. The artist must be a resident in Australia during the prior 12 months. I was very impressed with the various types of portraits and mediums used. I found it especially interesting that each portrait had detailed information on the person in the portrait. 1.5 hours was the time we needed to see the exhibition and the perfect amount of time for my girls to stay at the museum. A good day had by all :).
With the school holidays, I have more time to cook and try new recipes. While looking at a
rag magazine, I came across a spread on Gwyneth Paltrow ("GP") and her new cookbook. I was intrigued and cynical and thought she's beautiful, talented, has a great blog, an Oscar, married to a rock star, and seems to be a good Mom and down to earth person despite being famous...now, she has a cookbook?! Seriously...doesn't she have a personal chef? This cookbook can't be good or can it? I had to find out....
I decided to make her Risotto with Peas & Greens recipe. I use to cook various types of risotto years ago but stopped when we discovered a diary intolerance in the household. Her recipe has no dairy and Gwyneth claimed it was still rich and creamy yet healthy. Really, GP...you're on! Despite my cynicism, the risotto was wonderful. I have altered her recipe as I found hers too lemony, added more garlic, deleted the thyme and prefer all spinach. Next time, I will use red onion instead to make it sweeter.
Risotto with Peas and Spinach
altered from Gwyneth Paltrow's cookbook,
"It's All Good: Delicious, Easy Recipes That Will Make You Look Good and Feel Great"
950ml or 4 cups vegetable stock
3 tbsp extra-virgin olive oil
½ onion, finely diced....about 3/4 cup
1 leek, white and light green parts only, thoroughly washed and finely diced
3 garlic cloves, finely minced
1/4 cup roughly chopped or hand ripped fresh basil/coriander
Freshly ground black pepper
1) Warm the vegetable stock in a small saucepan and set it on the back burner over low heat.
2) Cut the lemon in half, juice it, and set the juice aside.
3) Meanwhile, heat the olive oil in a large, heavy saucepan set over high heat. Add the onion and leek, turn the heat down to medium, and cook until the vegetables just begin to soften, about five minutes. Add the garlic along with a big pinch of salt and cook another two minutes.
4) Turn the heat to high, add the rice and the reserved lemon juice, and stir to combine all the ingredients. Cook until the lemon juice is just evaporated and then stir in a ladle full of the warm stock. Continue to stir the risotto until the stock is absorbed, then stir in another ladle full of stock. Continue in this manner until the rice is cooked through and you have used all your stock, about 20 minutes.
5) Stir in the greens and peas (these will cook with the risotto's residual heat), the basil/coriander, and a few healthy grinds of pepper. Serve immediately.
Notes:
Risotto can taste wonderful as long as you cook it properly. You will need to stand at the stove to slowly add the stock and stir it for the 20 minutes cooking time. I suggest you pour yourself a glass of wine and listen to some music during this process.