I had written a blog on a different topic but I'll save that one for another time since there are bushfires burning out of control in New South Wales, the state I live in. Growing up in New York State and later living in northern California, I didn't have to worry about bushfires. Fires happened in other parts of California and in other states far away. Since they were not a concern of my daily living, I was not very concerned with them. This is sad but true and not surprising as we are all so busy putting out our own "fires" everyday.
This year has been the sunniest and nicest weather since we moved down under almost 4 years ago. I'd been hearing about bushfires on the news but again they weren't nearby so they didn't feel tangible to me. That was until last week when the air looked gray, brown and smoggy. It was a very hot day with lots of hot blustery wind. I'd closed the windows in the house to keep the heat out. When I went upstairs, I smelled smoke. I ran to all the bedrooms, thinking there might be a fire somewhere in the house. No fire, thank goodness. I then entered my bathroom, which was the only room with the windows open. There was the smoky smell and ashes in the bathroom sink. The ashes in the sink really threw me for a loop and the reality of bushfires then hit home. It turns out the fires were over 1+ hour away but the winds were so strong that they were blowing smoke and soot across Sydney. Outside, the air was thick with smoke and some ash flurries floated by. The sky looked very scary and ominous, like something out of a doomsday movie.
eerie view out my window
Smoke haze over Sydney, www.abc.net.au
Luckily, I live on the coast and I am not in the same danger as dry inland areas. However, we do live near several wooded parks, that if they caught on fire, could cause damage to the area. In doing some research, bushfires are a way of life in Australia. In fact the Australian National Geographic journal states that

fire has an integral role to play in organising vegetation, biodiversity, and other functions of the Australian landscape. The probability that a bush fire may occur,

is dependent on a variety of environmental factors. In the central grasslands and tropical savannahs, excessive rain brings growth of new plants and grasses. When the weather turns drier and the plants die back, there is much fodder for a fire. Sydney is in the eastern coast of Australia and only prone to bushfires during periods of drought. Since I've lived here, there has been

some variation of El Nino, El Nina or some other Mexican cousin so bushfires have not been a concern. This year, 2013, has been a lovely, sunny and generally dry year. With less rain, the vegetation is now dried out and we have had many hot very windy days which have led to fires.
To better alert the country to fire dangers, a standardised Fire Danger Rating was adopted by all Australian states in 2009. During the fire season the Bureau of Meteorology provides fire weather forecasts and makes predictions based on temperature, relative humidity, wind speed and dryness of vegetation. From this, fire agencies determine the appropriate Fire Danger Rating. They are a feature of weather forecasts are broadcast via newspapers, radio, TV, internet and on roads.
www.cnn.com
As I typed this, I just checked Yahoo! news and there are 62 fires burning across New South Wales with 13 of them uncontained. The Premier has declared a state of emergency. In the Blue Mountains, which is about 2+ hours away, there are 2 fires burning in separate areas but the firefighters fear they might merge and join one giant fire due the dry, windy conditions. The fires are being fought by the NSW Rural Fire Service a mostly volunteer group of firefighters. Tony Abbott, the new Prime Minister, is a member of the volunteer group and has been surveying the fires and helping to fight them. What a great photo op for a politician, eh?
Prime Minister, Tony Abbott www.dailytelegraph.com.au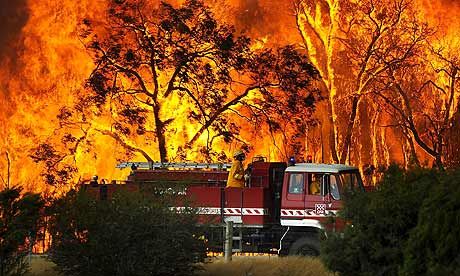 www.theguardian.com
With little rain predicted and unpredictable fires, I am somehow optimistically hoping these fires go away. The destruction and loss of people, wildlife and property is really depressing. I can't imagine losing my family, dog, house, car, land, etc. to a fire. The summer hasn't even started so it looks like there may be dire times ahead. I am hoping one of the Mexican weather patterns come back....fast.
www.abc.net
Well a (depressing) blog about fire should have a hot and spicy dish. Unfortunately, I don't have one as my family likes quite mild food. I do enjoy spicy food, especially hot Thai and Asian dishes. I've noticed when I go out to a restaurant and eat a spicy Asian dish lately, that I get really bad headaches. I think that I may have a MSG allergy. I now turn over most packaged food to see if they have any foods with a 600+ number as these numbers are flavour enhancers and MSG related. In looking more closely at ingredients, I have been shocked to see how many food products are just full of all different numbers and colours; very processed. Because of this, I have started to cook more homemade, wholesome goodies for my daughters. One new recipe that is popular in our household is Berry Crumble Muffins. They are healthy, wholesome and easy to make.
Berry Crumble Muffins
2.5 cups of Self-Raising Flour
1 cup Brown Sugar, packed
2 Eggs
7 tablespoons/100grams Butter, melted
1 cup Buttermilk (*see notes*)
2 teaspoons Vanilla Extract/Essence
1 heaping cup of Frozen or Fresh Berries (*see notes*)
Topping:
3 tablespoons Butter
4 tablespoons Flour
3 tablespoons Sugar
2 tablespoons Oats
1 teaspoon cinnamon
1) Preheat oven to 190C/375F. Melt butter in microwave and let cool slightly.
2) In medium bowl, mix together dry ingredients: flour and sugar. Use a fork to break up any clumps in brown sugar.
3) In another bowl, mix eggs, buttermilk and vanilla extract/essence together.
4) Once liquid is mixed through, add melted butter and stir through.
5) Add wet ingredients to dry ingredients and mix through with a spatula, scraping any flour bits on the side and bottom of bowl.
6) Add berries and gently stir through, just blending. Batter will be very thick, which is ok. Don't not overmix as overmixing results in denser, tougher muffins.
7) Grease 12-hole muffin pan or use paper liners. Use ice cream scooper or spoon and fill each cup 3/4 of the way full.
8) Once tray is full, make crumble topping. Combine all ingredients in a small bowl and knead together with your hands into a crumb mixture.
9) Sprinkle crumb mixture on top of muffin batter and put tray into oven.
10) Cook for 20-22 minutes.


NOTES:
~ Frozen berries work well as they don't "run" and discolour the batter like fresh ones do. They are also available all year round There is no need to thaw frozen berries before using for this recipe. Simply add frozen berries directly to the muffin batter.
~ Be sure to mix by hand for better texture and height to your muffin.
~ If you don't have buttermilk on hand, you can add 1 tsp of vinegar OR lemon juice to 1 cup of milk and let it sit out for at least 30 minutes before using. You can also use plain yogurt as a substitution for buttermilk.